"Sometimes", the white rabbit says, "i can imagine the humans could talk like we do.".
Lewis Carroll
Pushkins World Pause Page
SCCCCCHHHHHHHHHHH... ...SLOW DOWN, RELAX, CLOSE YOUR EYES YOU ARE HERE, AND NOTHING CAN DRIVE YOU AWAY FROM HERE............
This Page is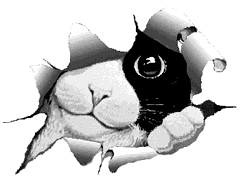 PAUSED!
Be sure, you can come back EVERY TIME you want and "re"pause!
If you need some "funny" literature to expand your pause, try one of the proposal of the Pushkins World Library.